Good evening everyone!
I haven't mentioned it on my blog before, but I am in love with the fashion on this TV show! Especially with what Cordelia wears. Her style is so similar to what I'd like to see in my own wardrobe in the future. Tonight I watched episode 11 with my SO and I told him that I was absolutely in love with the skirt she wore tonight in the latter part of the episode (shown above).
Eventually I was able to find a post about it on
wornontv
, and here were their suggestions:
Ted Baker Full Skirt in All Over Floral Print, ASOS, SOLD OUT
Cotton Spandex Jersey
Double U-Neck Long Sleeve Bodysuit, AA, $38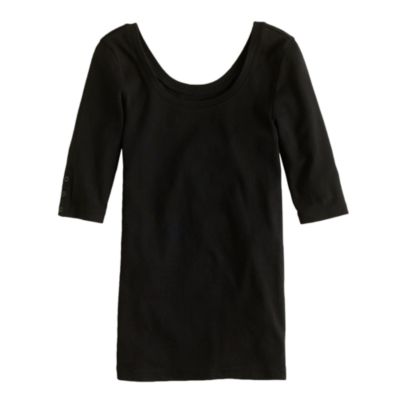 PERFECT-FIT BALLET BUTTON TEE, J. Crew, $29.50
Now, I think these are GREAT suggestions. And the skirt is the exact same one used in the show, in fact. If it weren't for the pricetag ($142.60, yikes!) or the fact that it was sold out, I probably would've bought the skirt. I love floral patterns, and especially ones that look like beautiful oil paintings. So since this skirt is sold out, I thought I would go on a little internet adventure and see if I couldn't find something similar (or at least something that I liked as much). It's important to note I wasn't only so found of the pattern (pretty flowers on a black background) but that I also really loved the high-waited fit, the pleats, and the fullness of the skirt (I'm also a sucker for zippers, so the zipper on the back was indeed a nice touch).
As it turns out, nothing was "good enough" for me (so not close enough in design, structure, or colors) other than a different Ted Baker skirt:
which was also about $200 and sold out everywhere I found it. Sigh. I guess Ted Baker is my new favorite designer? I had really hoped to find a similar skirt online, since it's one of the prettiest I've seen! I guess I'll have to keep my eyes pealed (no spoilers, no spoilers!) and hope to find something similar in my searching!
Have you found a skirt similar to these you like? Are you also a fan of Ted Baker or of American Horror Story? Let me know! I'd love to hear.
Cheers!